The Power of Aeroseal
Homeowners and commercial businesses looking to have their ducts properly sealed often do not know how the different methods compare. Traditional sealant technologies, such as tape and mastic adhesive, may help cover up obvious damages but tend to be ineffective against leaks that are hidden behind walls or other hard to reach places. That is why our duct sealing team chooses to use Aeroseal, the most cost-effective solution to fixing leaky ducts.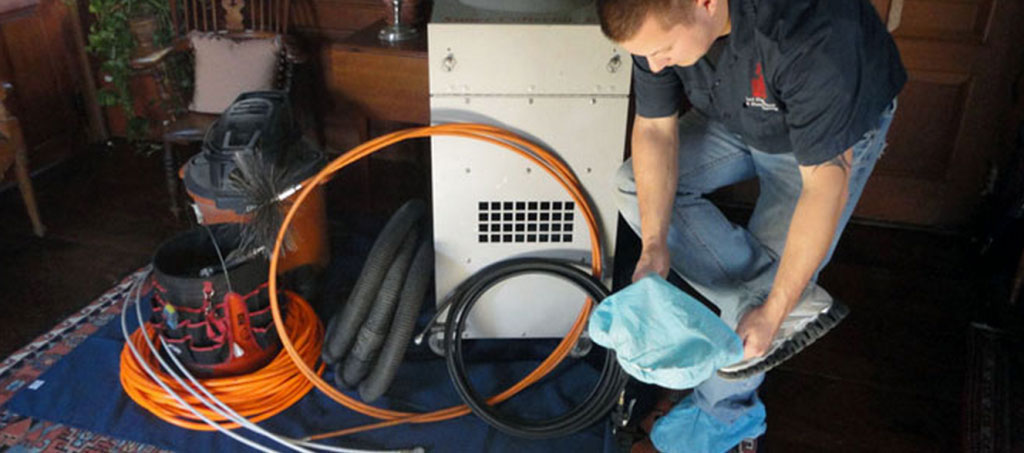 How it Works
Aeroseal technology is a fast, safe, and effective way to seal duct leaks. Invented and developed at Lawrence Berkeley National Laboratory in 1994, Aeroseal internally seals leaks by injecting aerosolized vinyl polymer sealant particles into a pressurized duct system. The ductwork is pressurized using a calibrated-flow fan, which keeps the aerosol moving through the ducts without collecting on the surface; the particles remain suspended in the air flow until the change in pressure around leaks and holes forces the aerosol adhesive through the cracks, where it collects on the edge and builds a seal to effectively block air flow.
Many benefits come with using Aeroseal technology; aside from lower energy bills, Aeroseal works to eliminate excessive humidity and dust, car exhaust, musty odors, and other harmful fumes that circulate through the home. Aeroseal helps to make you considerably more comfortable by delivering air more efficiently, consistently, and faster. The savings you get from aerosealing your home pay for itself in three to five years in perfect conditions, and is much more effective than installing new windows or insulating walls. When the average American household spends $2000 in energy bills, you can't afford to lose any of it to duct leakage.
Aeroseal Demonstration from
This Old House
What are the Benefits of Aerosol Duct Sealing?
Professional Aeroseal duct sealing services lead to increased comfort level of your home or business. You will have much greater control over room temperatures to keep your space cool during the summer and warm during the winter. Properly sealed ducts will also increase the efficiency of your heating and cooling system, lower your energy bills and allow you to downscale to a smaller and less costly heating and cooling system. Using Aeroseal to seal your air ducts will also reduce the risks of combustion gases like carbon monoxide entering your living or working space and will further improve your indoor air quality by reducing exposure to fumes from household and garden chemicals, insulation particles, and dust that can aggravate asthma and allergy problems. The Aeroseal process seals leaks nearly impossible to reach using traditional methods and contributes to an overall reduction of the amount of air pollution created from generating less energy.
Benefits of duct sealing using Aeroseal